The world truly holds tons of mysteries that are yet to be discovered by our scientists, engineers, and inventors. Little by little, we are getting closer to knowing what was hidden from us before. But with technology, the impossible becomes probable, accessible, and now utterly possible. All the technologies that have been presented to the audience are serving their purpose regardless of whether they are necessary or made entirely to benefit our luxurious living.

Right now, the world is filled with contraptions collectively called "gadgets" built to render solutions to our daily commitments. A few of these so-called gadgets are all beneficial in their own ways with the assistance of a number of accessories such as those for tablets, while some are just a bit ridiculous. Still, I know you would agree with my thoughts after you read through the rest of this article. Shall we begin?

1. Etiquette Checker. Yes, ladies and gentlemen, it has come to this. As important as the need to bathe daily, one should learn the proper etiquette. Lay your eyes on the Etiquette Checker – a gadget that scrutinizes your breath and blood alcohol level if it's acceptable enough or truly gruesome. The user simply has to breathe into the device after picking the mode you fancy. How does it work? After breathing into the device, it is then ranked from good to bad, applying the number system from 1-6, 1 being the highest with a rating of "delightfully fresh" and 6 being the worst breath of all time. On the other hand, the blood alcohol level checker is measured in 0.5 increments. This is immensely helpful in averting you from driving home while under the influence of alcohol or engaging into an activity that will only end in embarrassment. The Etiquette Checker is small enough to fit in a pocket or purse. It is also built with a LCD screen and an auto-off feature to save battery life. You could easily recharge it with an accompanying USB charger.

2. The Beam. This I never would have believed to ever be brought to life. The Beam is a toothbrush that has a few of the features of a smartphone. It is similar to a normal toothbrush that connects to your Android device using Bluetooth. The purpose of this device is to time your brushing period, noting whether you've done your fair share of teeth-cleaning. It could also track the user's "brushing history" and later provide a graphical analysis for a whole week that can even be uploaded. Maybe that's too much sharing, so if you can, don't upload it.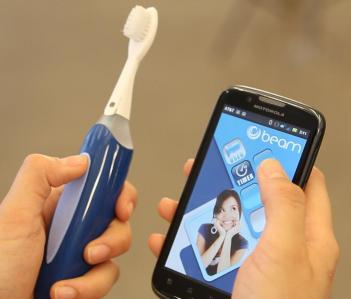 3. Pin Pressions. Okay, this is a little different from the two aforementioned. Even so, I cannot help but include it in this list! It's really quirky and fun all the same. Pin Pressions is the term used to identify the metallic and pointillist view of any body part. This time around, it's life-sized, meaning your whole body is up for pinning. Lulu Guinness is the person responsible for this silly pun that she had on display in Central London during the Clerkenwell's Design Week.

Gadgets or not, technology has assisted us in so many ways may it be in etiquette, health, or just plain fun.
Related Articles - Wacky Gadgets, Tablet Accessories, USB Charger,