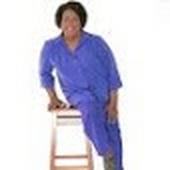 Author: Yvonne G

Website: https://sites.google.com/site/theworldorgod/

Memorable Quote 1: Be Still and Know that I am God: . . . Psalm 46:10, KJV

Memorable Quote 2: Remain alert and look to the skies for the Second Coming of our Lord Jesus Christ!

Author Comment / Biography:
Alma Grady, a/k/a "Yvonne G", is a freelance writer who has written and submitted more than 300 articles to online publishers for their websites and other venues. Textbroker International and Writer Access are two online companies she's recently worked with submitting articles covering assorted subjects such as education, finance, business, home and family, hobbies, arts and crafts and other miscellaneous topics.

Alma Grady's immediate focus is currently on Christianity and the world's movement to God, our Father and His Son, our Lord and Savior, Jesus Christ. Her goal is to continue her research and studies of the Word of God and to continue submitting articles detailing the results of this process.

Alma's ultimate goal is to publish a series of books which will be a compilation of all her articles and continued research which will outline the lives of the human race in accordance to our Father, leading up to a complete perspective of the coming end times.