The Box was one of the first exhibition works of Renoir's formal joining the Impressionist exhibition. Totally he sent seven paintings. This impressionism painting he made in the theatre and the model he invited in the studio. The well-dressed lady in the front was acted by a model named Nini Lobisi.

The back middle-aged gentlemen holding the telescope was acted by a model of a brother of Renoir. Interestingly, Impressionism could also be made in the studio. He managed to draw a corner of the atmosphere in the theatre. Especially the looks of two figures in the painting did not pose traces, but seemed to be absorbed in the opera and intoxicated in the moment of the stage performance. This chart, although the painting was surrounded by the frame, only highlighted the lady's image in the box. Because of Renoir's rendering of color atmosphere, the viewers could feel the atmosphere of the audience in the theatre. The lady's makeup face and the male gentleman behind formed a distinct contrast. The color tones of The Box were warm, composed of rose, black and white colors. The black stripes on the body were abnormal and eye-catching. These coarse wide black stripes and her white light just echoed with the gentleman's black suit and white shirt. Use of black in the impressionist painters was a taboo, because the light was difficult to reflect the true black. Maybe Renoir was to use the small brush strokes and gradually added up without axe blunt sense.

This painting did not realized the Impressionist "no black" proposition, with black stripes to highlight the sharp contrast changes. This painting was the only one that made the critics with few negative comments among the entire impressionist exhibition. The painter based on the theater's impression and created the well-dressed lady in the box. Interestingly, this was the Impressionist painting done indoors. The painter successfully demonstrated the box's atmosphere in the theatre. Although only two people were drawn, the artist clearly highlighted the lady's image, the makeup lady contrasts sharply with the gentleman. Using fine brushwork to reflect the black produced a rich and deep level, so that the screen increased the visual sense of beauty.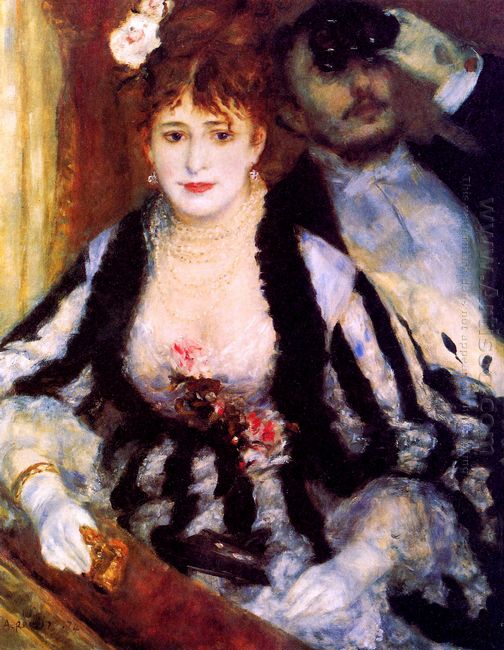 Related Articles - Portraits, Pierre Auguste Renoir, Impressionism,