Jean-Baptiste-Siméon Chardin (1699 – 1779) was a well-known French painter in the 18th century. His genre paintings are highly appreciated and he is regarded as a master of still life. From most of his paintings, we can see kitchen maids, children, and domestic activities, etc. Chardin had a widely influence on the modern art, He was one of Henri Matisse most admired painters. His works were of carefully balanced composition, soft diffusion of light.

Soap bubbles is a genre painting by Chardin in his early years. It depicts a poorly dressed boy blowing soap bubbles from indoor to outdoor. He was attentively and carefully blowing soap bubbles bigger and bigger. There is another child, around 3 or 4 years old, tiptoes and looks out from the window. The theme is ordinary and scenario is very simple. It is a kind of leisure and comfortable life, reflecting the pure and good feelings of the children in lower class.

The second half of the 18th century, civilian realism art appeared French Rococo art.They are both opposed to classicism that keeps away from the life and intend to reflect the real life. The difference between them is that the former is for the upper social class, while the latter middle and lower classes. Therefore, Chardin could be regarded as a member of civilian realism.

Chardin received high praise from Diderot. He specialized in still life paintings and genre painting. He attempted to reflect the interest of the city populace life through his still life paintings, and to reflect their hard-working, frugal good moral characters of through his genre paintings. His genre paintings were influenced by the Dutch School, but he tends to be more profound in thought. He was good at combining characters with their living environment. His representative works are Frau, Geschirr scheuernd, Girl with Racket and Shuttlecock and this painting Soap bubble.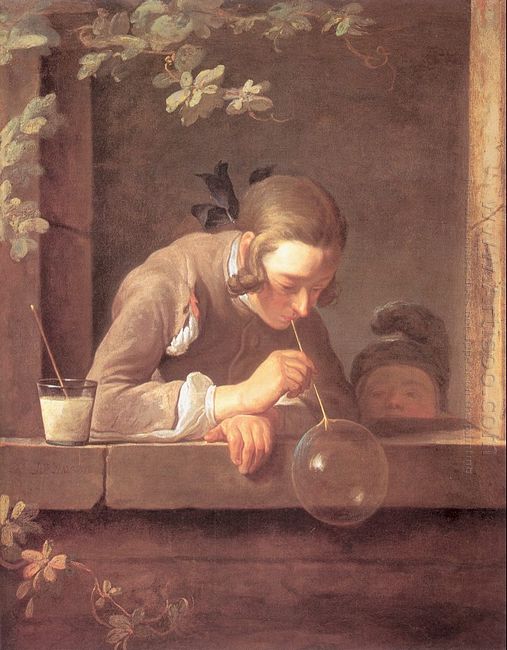 Related Articles - Genre Painting, Rococo, art, painting, chardin,