WASHINGTON—
Lawyers for an Iranian-Turkish national arrested in March on charges of conspiring to evade U.S. sanctions against Iran have asked a federal court to set a $50 million bond for his release until trial.
Reza Zarrab is one of three people charged in what prosecutors allege was a five-year scheme involving millions of dollars in transactions on behalf of the Iranian government and businesses.
Iran has been under various U.S. economic sanctions since 1979 that bar transactions involving U.S. entities and those related to Iran and its government. Those are different from the more recent sanctions put in place in response to its nuclear program, which were lifted earlier this year.
An indictment unsealed in March said Zarrab and his co-conspirators used a network of companies in Iran, Turkey and elsewhere in the world to conduct transactions while concealing from U.S. banks that they were being done for Iranian entities.
In a letter and supporting documents filed to the court Wednesday, Zarrab's lawyers asked the judge in his case to let him await trial under house arrest with several conditions. They said the $50 million bond would be backed by $10 million in cash, he would have two armed guards at all times and could only leave his New York apartment for medical treatment, meetings with lawyers or religious services.
The documents say Zarrab should be subjected to the "least restrictive" conditions that will reasonably assure he shows up for his trial. His lawyers argue that his alleged crimes are financial in nature with no charges involving violence, sex, terrorism or weapons.
They also cite his wife, Turkish singer Ebru Gundes, saying Zarrab would not risk their relationship or her career by fleeing.
"Furthermore, the defendant's wife is, modesty aside, an international music star throughout the Middle East and elsewhere. It would mark the end of her very successful and public career if she was to be married to a fugitive."
Zarrab's attorneys said if he remains in detention, it would be difficult for his legal team to give him a proper defense, and that he has medical issues that will also be easier to address if he is allowed to be at home.
The filings say Zarrab was born in Iran's capital, Tehran, but lived most of his life in Turkey where he began work in gold and commodities trading in 2012. They describe his arrest in March as happening when he flew to Miami with his wife and five-year-old daughter to visit the city and Disney World.
His arrest brought praise from many Turkish nationals who were unhappy with a 2013 corruption scandal involving accusations that Zarrab bribed Cabinet members. That case brought a backlash from the government and led to a crackdown on judges, prosecutors and law enforcement. Charges against Zarrab were later dropped.
U.S. Attorney Preet Bharara became somewhat of a celebrity on Twitter after posting a message about Zarrab's arrest, with his followers growing from about 8,000 to 295,000 today.
No date has been set for a hearing on Zarrab's bail proposal. He and the others charged in the case, Iranians Camelia Jamshidy and Hossein Najafzadeh, are facing maximum sentences of more than 50 years in prison.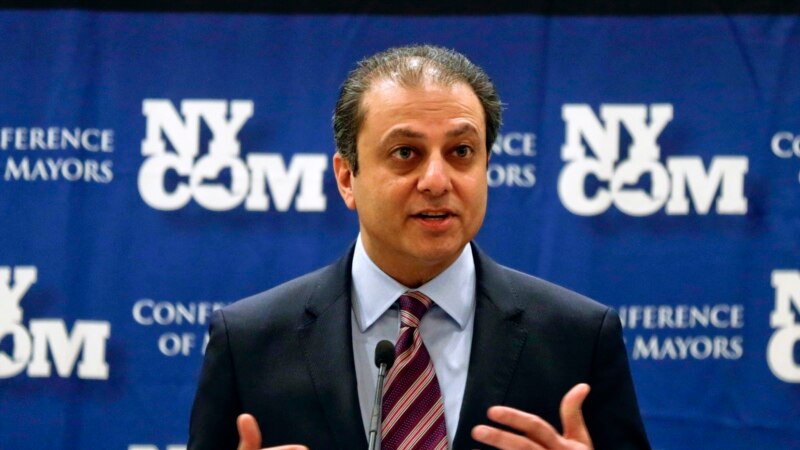 Related Articles -