BRASILIA, BRAZIL—
Brazil's President Dilma Rousseff presented her written defense to a Senate impeachment trial Wednesday, denouncing the proceedings as a farce and saying her alleged crimes were no more than "routine acts of budgetary management."
"Everybody knows that you are judging an honest woman, a public servant dedicated to just causes," the suspended leftist leader said in a document read aloud by her lawyer and former attorney general, Jose Eduardo Cardozo. "I've honored those who voted for me."
Rousseff's removal would end 13 years of leftist rule over Latin America's largest economy by the Workers' Party that began under her mentor, former President Luiz Inacio Lula da Silva.
Her defense made clear she is sticking to the strategy of refuting the impeachment process as a soft "coup" led by her onetime vice president, Michel Temer, a conservative who has taken over since mid-May when the Senate voted to try Rousseff.
Rousseff has repeatedly said her impeachment is an attempt by Temer and other right-leaning members of her onetime governing coalition partner, the Brazilian Democratic Movement Party, to remove her because she did not impede a sweeping probe of corruption at state-run oil company Petrobras.
That investigation has ensnared dozens of top politicians, including the former speaker of the lower house of Brazil's Congress, who led the impeachment campaign against Rousseff.
Rousseff herself is not directly accused of corruption. But Brazil's chief prosecutor has asked for her to be investigated for obstructing justice in the Petrobras case. She has denied wrongdoing.
Alleged fiscal violations
Her impeachment is technically focused on accusations that she broke fiscal laws by disguising the size of the budget deficit to make the economy look healthier in the runup to her 2014 re-election.
Rousseff has said her budget maneuvering was no different than under previous presidents. But critics have said Rousseff borrowed far more money from state banks than her predecessors to plug budget gaps and hide the real state of Brazil's economy.
Rousseff's suspension in May had ample political support because her popularity had plunged amid Brazil's worst recession since the 1930s and public outrage over a string of corruption scandals involving her government. A recent poll showed interim President Temer is also highly unpopular.
"What most hurts right now is the injustice," Rousseff said in her written defense Wednesday. "What hurts most is to perceive that I am the victim of a judicial and political farce."
Rousseff said she believes she is being targeted because she "never gave in to blackmail. I never accepted ... the backroom deals so well-known in the traditional politics of our country."
Rousseff warned that should the Senate vote to find her guilty, as it is widely expected to do next month, her permanent removal would result in a Temer government that would shift Brazil's politics to the right without a win at the ballot box.
She said that would turn back democratic gains made during the fight against the nation's long dictatorship, during which Rousseff herself was arrested and tortured while spending three years in prison.
"A government that was not directly elected by the people will not have the legitimacy to propose solutions to our crises," Rousseff's defense read. "A government without popular support will not solve a crisis because it itself will always be the crisis."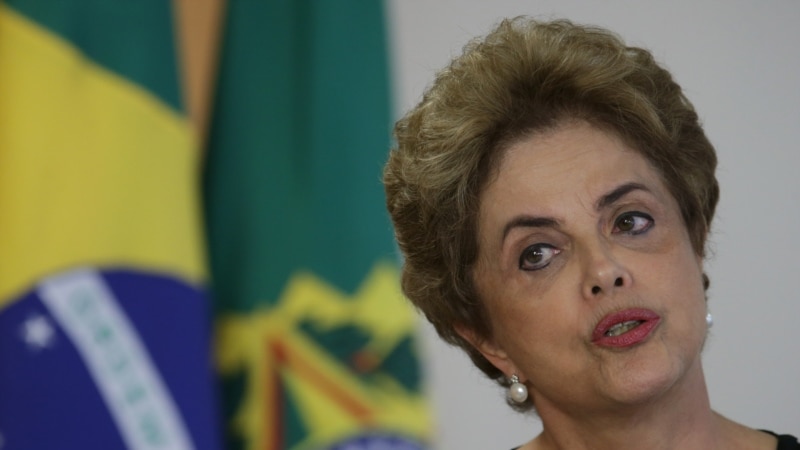 Related Articles -