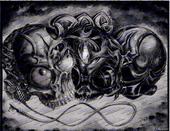 Author: marco hope

Company: Freeflow Art LLC

Region: USA

Website: freeflowartgallery.com

Memorable Quote 1: Utilizing Wasted Talent

Memorable Quote 2: Get Your flow On

Author Comment / Biography:
Free Flow Art Gallery Our vision here at Freeflowartgallery is to provide you with the opportunity to purchase some of the sickest, freshest, untamed aggressive street art, to proudly display in your home place of business or to simply add to your apparel of personal expression as you rock your daily grind. Freeflowart, is continuously scouring the four corners of the earth to provide you with nothing less than the rawest of unique artistic expression. Whether it be from the darkest corner of a prison cell or the brightest studio on the penthouse floor, we will find it and provide it for you!

Freeflowartgallery is interested in providing an environment where aspiring artist will not only strive, but thrive! Through the many different avenues in which we provide opportunities, we are also creating rich communities and networks where unknown artists will be showcased and shared with the masses!

Although we, aim for perfection, we realize we are far from it. For this reason we would like to extend our hand to all who may be struggling to reach their full potential of success, through their art. At this very moment, Freeflow is reaching out to individuals across the globe who are seeking to overcome, what we believe to be the biggest misuse of natural resources and that is WASTED TALENT!

Freeflowart is not limited to only distribution of art and apparel, but has evolved into an art agency to provide opportunities to all who are willing to share their god given gifts. Freeflow works directly with businesses that are in need of Artists for the following venues: Air Brushing of Custom Cars, Motorcycles, Boats, Rv's, Business Logos and Murals inside homes or offices. Whether it be Framed Art, Coffee Cups or Store Front Windows, the Avenues are endless and we will help you find these unique opportunities to become well known! We ask of you, if you know anyone who is in need of consulting with our associates in regards to finding an artist, to please contact us so that we may provide you with one our many artists whose artistic expression may suit your unique flow!

As of now Freeflow's premiere prints, t-shirts, long sleeves, crop tops, hats and décor, will become available to you for the first time. And in doing so, to show our appreciation for your ongoing support, all revenues will be recycled back into the expansion of distribution and employment opportunities for you and our aspiring artists alike, so that they may be discovered and recognized for their gift of artistic expression!

Freeflow is working to establish Art Hubs across the nation and abroad, so that kids and adults alike may have a place to express themselves through their art! Freeflow donates cash from every sale to go directly to these Art Hubs so we may provide the supplies and a safe place for anyone to polish their skills among others of the same mind. Freeflow also pays out $ 3.00 of every sale to the artist who created the art for as long as it sells, so that they may provide for their families. Our Full/Part time artists also receive cash disbursements tied to their sale volume.

We here at Freeflowartgallery thank you for your time and support in the growth of our company and also the opportunity to work with you now and in the future!