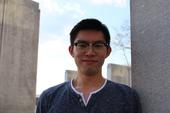 Author: Ellisen Wang

Company: EllisenWang.com

Website: EllisenWang.com

Memorable Quote 1: Consistency trumps proficiency.

Author Comment / Biography:
I'm Ellisen, nice to meet you! Obviously you're here because you want to know who I am.

Well...

Let me take you way back in the day when I was just a little boy.

At a young age, I always knew I wanted to go into business. I was one of those kids who grew up with videogames. And just like the stereotypes you hear about videogamers, I was one of those quiet, and sometimes awkward, kids. But videogames was the reason why I got interested in business.

During my first year of college, I got my very first job at the best fast food restaurant (in my opinion), Burger King. Even though it was a bit ghetto, I loved working with everyone there! But there were certain experiences I went through that made me quit and realize that I do NOT want to work under someone else for the rest of my life.

Fast forward a few years, I started my first online business in the computers and gaming niche.

I'm not gonna lie, the first six months was absolutely terrible. I spent so much time making my website look pretty and creating pages of content just to see zero visitors.

Then one day I thought, "Huh. Maybe I should improve the copy on my website."

So I did just that. I studied the basics of copywriting and a little bit of SEO.

A few months later, I started to see an increase of organic traffic to my website and started earning affiliate commission! I even remember the feeling I got when I saw my first earnings, it was amazing to say the least.

But it was time to move on, after the one year milestone of my first online business, I decided this business wouldn't be able to earn enough money to support me full time. So I made the difficult choice of abandoning the project (The website is still up though).

And that's when I decided to enter the world of copywriting.

Why?

Because I love the freedom and creativity I have when I write. And it's a lot less boring than academic writing. Plus, knowing how to get people to buy things is a pretty powerful skill to have and is useful in any and all businesses. My Specialty

Speaking of, I specialize in EMAIL MARKETING, something all businesses should be using.

Why again?

Because it's the most personal communication tool on the Internet and it's the best tool to build relationships with your audience. And building relationships with others is something I really value in my life.

That's why I get so irritated when I meet business-people who are so quick to make me buy something from them. Or when I come across businesses online who only send me blatant sales emails with no value whatsoever.