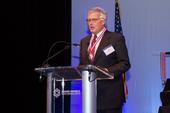 Author: Stephen Bye

Website: www.StephenBye.com

Author Comment / Biography:
Steve Bye is currently a fiction writer, who published his first novel, 'Looking Forward Through the Rear View Mirror' in July of 2018. His second book, "The Developer" a 1977-1980 saga of a fictional Denver real estate developer, was published in August 2920 and a sequel, "The Developer Phase II" was published in January 2022. Steve is a member of the Rocky Mountain Fiction Writers and the RMFR Professional Authors Alliance.

Over 40 years, Steve's career was focused on arranging capital for large commercial real estate projects across the United States. He founded the Denver Regional office of NorthMarq Capital, LLC in March 1983, one of the largest commercial mortgage banking firms in the U.S. Under his direction, the office generated production volume in excess of $13 billion, encompassing 1,800 transactions prior to Steve's retirement in April of 2017. Steve's personal production volume over this period was approximately $3 billion involving over 300 transactions. In addition to arranging traditional mortgage debt, Steve structured and negotiated many institutional joint venture common equity partnerships, preferred equity structures, mezzanine debt, institutional pre-sales, tax-exempt bond enhancements, construction and bridge loans, and sale/leaseback transactions.

From 1980 to 1983, Steve Bye was Assistant Vice President and Manager of Coldwell Banker Real Estate Financial Services in Denver. He held the position of Real Estate Officer for Northwestern Mutual Life Insurance Company in Denver from 1978-1980. He was Manager of Real Estate Appraisal and Staff Underwriting for Verex Assurance Company in Madison, Wisconsin from 1975-1978. Prior to that, he held staff appraisal positions for an MAI firm and for First Federal Savings in Milwaukee, Wisconsin. In 1976, he was appointed to the Planning Commission of the City of Madison, Wisconsin by the mayor.

Steve Bye holds an M.B.A.in Real Estate Investment Analysis from the University of Wisconsin – Madison as well as a B.B.A. in Urban Land Economics, also from UW-Madison.

He has been a member of many real estate organizations including the National Association of Industrial and Office Properties (NAIOP), the University of Wisconsin Real Estate Alumni Association, the Burns Counselor Board at the University of Denver, the Colorado Chapter of the International Council of Shopping Centers (ICSC), and the Mortgage Bankers Association (MBA). He has served on the real estate mortgage correspondent advisory councils for 4 major life insurance companies and was formerly a licensed Colorado Real Estate broker. In 2018, he received the Legacy Broker Award by the Colorado Chapter of NAIOP.

He has authored many articles for various real estate publications and has been a speaker, lecturer, or consultant for several real estate trade groups and other organizations including NAIOP, Urban Land Institute (ULI), The Federal Reserve Bank, Colorado State Land Board, CLE International, Colorado Real Estate Journal Conferences, Commercial Property News, University of Colorado-Boulder Leeds School of Business, the School of Real Estate-Daniels College of Business at the University of Denver, and the Colorado Association of CPAs.

Steve Bye is a native of La Crosse, Wisconsin and in 1969, was awarded an Evans Caddie Scholarship sponsored by the Western Golf Association and the Evans Scholars Foundation to attend the University of Wisconsin-Madison. He has also been a volunteer coach for boys' and girls' baseball, softball, and basketball. He has been married to Karen for 47 years and they have four adult children and ten grandchildren. His hobbies include golf and NBA Basketball, as well as collecting rock-and-roll and sports memorabilia. He currently lives in a suburb of Denver, Colorado.