James Tissot (1836 – 1902) was a well-known French neo-classicism painter. He was born in Nantes, France. He studied art at Beaux-Arts in Paris, Tissot's early paintings were mainly about history, which was influenced by his education in the Netherlands. And them Tissot decided to move to London. This move should have great impact on his life. He needed to earn enough money as soon as possible so that he began to paint perfect genre paintings of London social life. During this period, the famous painting Too Early was created and these paintings attracted instant attention form the public and critics.

Tissot's success in London aroused jealousy of his Impressionism colleagues, he was regarded as nobody at that time. Some of the hostile comments on his works were difficult to understand nowadays. The main criticisms of the time were that the paintings were just painted photographs and seemed to be such mediocre. In fact, at that time Tissot showed his great skills, Gallic wit and sophistication, in his oil paintings, which were greatly superior to other English artists. However, his paintings that reflected social evil could not be accepted instantly by the public owing to the hostile comments and serious social class consciousness in Britain.

The river Thames was the one that attract Tissot in London, His paintings always used the river as the background and this was one unique style of his painting. When people stared at his painting, they could almost smell the smoke, and heard the shouts of the sailors in the painting. This kind of paintings included A Passing Storm, On The Thames, The Captian Dgughter, The Ball on Shipboard and so on.

When the time went to the year 1882, Tissot left London and returned to Paris. In Paris Tissot took society and genre pictures as his theme of painting, but later he changed the theme to religious scenes. In order to paint the best paintings, he made great afford to improve himself. He ever visited the Middle East twice to make study so as to make himself be acquainted with real backgrounds for his religious paintings.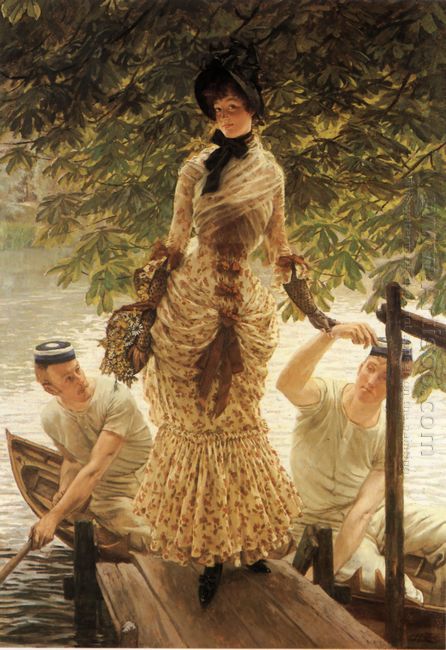 Related Articles - James Tissot, religious paintings, ,