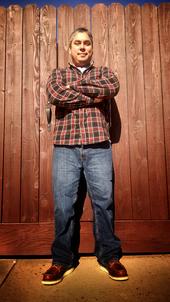 Author: Ben McKoy

Region: USA

Website: www.tvconverterboxhq.com

Author Comment / Biography:
Hello!

I'm Ben McKoy, and I have a passion for taking things apart and putting them back together again. Currently, I'm working on an old Chevy truck, that needs complete restoration. This is just one of my many hobbies that I enjoy doing. On weekends, my family and I travel for my daughter's soccer games around Northern California.

When not traveling, I like to brew me up a batch of home made beer in the backyard. I do like me some home made IPA or Amber Ale.

Anyhow, I have a thing for wanting to learn about many different things around me, and, it wasn't until recently that I realized, I happen to know thing or two.

Last weekend (as I write this profile) and installed a 350 motor in the old truck. This was the first time in my life of ever doing something like this, and while it took me a year, it was all worth the wait to get it done the right--plus, it was only me doing all the work.

Hope you like the articles I put out.

All the best,

Ben

PS, I just canceled my Satellite TV after 10 years, and installed a digital antenna and converter box. I was amazed to see High Definition quality channels without paying a dime to the dish companies. Please check out my articles.